PRODIZ
Company «Prodiz» is the project organization, giving the all kinds of services in design development, fundamental repair and reconstruction, from concept architecture to detailed design.
We offer following services:
· building objects planning;
· buildings design, reconstruction and and re-equipment;
· cottages and private houses, residential houses and complexes design;
· design of public buildings and complexes, office and corporative buildings, trade and public supply buildings and complexes, administrative, cultural, performance, sport and medical complexes;
· engineering design (heating, ventilation and conditioning, water supply sewerage systems, electrical equipment, feeble-current systems);
· interiors design;
· 3D-modelling, consept and schematic design;
· project documentation approval;
· authorial supervision.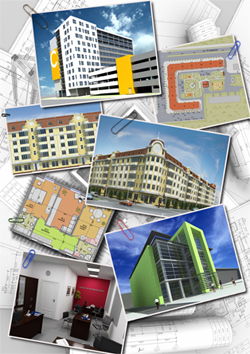 We apply the newest project and technical decisions.
Thats why we can realize our projects qualitatively and quickly, that help us to find the individual and professional view for every client.
Contacts:
6 Budindusrtrii street, Kiev, Ukraine, 01013
tel.: +38 (044) 379-34-39
fax: +38 (044) 545-75-20
E-mail: V.Shershun@prodiz.com.ua